Late last year, I was walking past a display of travel and attraction information. One booklet grabbed my attention. (As a pilot-in-training, pictures of airplanes do that to me.)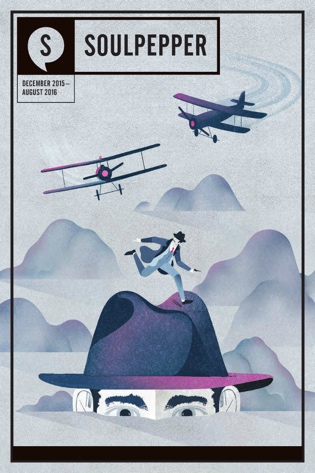 Not really knowing exactly what it was, I picked it up and took it home to read.
I'm glad I did.
A New Take on Alfred Hitchcock
It turns out the artwork that caught my attention is for Soulpepper's production of "The 39 Steps." It's a mystery-comedy play, based on a novel which is based on the movie by Alfred Hitchcock. I'm a fan of mysteries, but the most intriguing part before seeing it last night? There are over 150 different characters in the play… and only four actors.
Two of them (Kawa Ada and Raquel Duffy) play the more serious, straight characters. They each trigger their own moments of laughter during the show, but their characters are more rooted on the mystery side of the show's mystery-comedy spectrum. On the other hand, the other two actors (Anand Rajaram and Andrew Shaver) are definitely more on the comedic side of the show! They play the most different characters and get the most laughs–partly because they're playing so many oddball personalities.
This works out rather well. The four of them combine to use everything available to facilitate the various roles: accents, movements, costumes, anything. Sometimes character switches even happen more than once in the middle of a single scene!
Silly and Fun
This show has a feeling of improv theatre to it. I'm sure what I saw was (mostly) scripted but it seemed unscripted in places. Part of that is the fast pacing and physical comedy, but I think a lot of it is because the play was written to use very few props. There's no car for instance, one is just created on the fly from what's already on stage. The idea of breaking the fourth wall happens several times during the show.
"The 39 Steps" is a fun play. You will laugh. It can get a little too silly at a few points but you will leave with a smile on your face at the end of the show.
I think it was originally scheduled to end its run tonight but some new shows have been added. If you get the chance to see "The 39 Steps" before it wraps up, do it. If not, I really hope Soulpepper does another run soon so you can see this really well-done and fun performance.